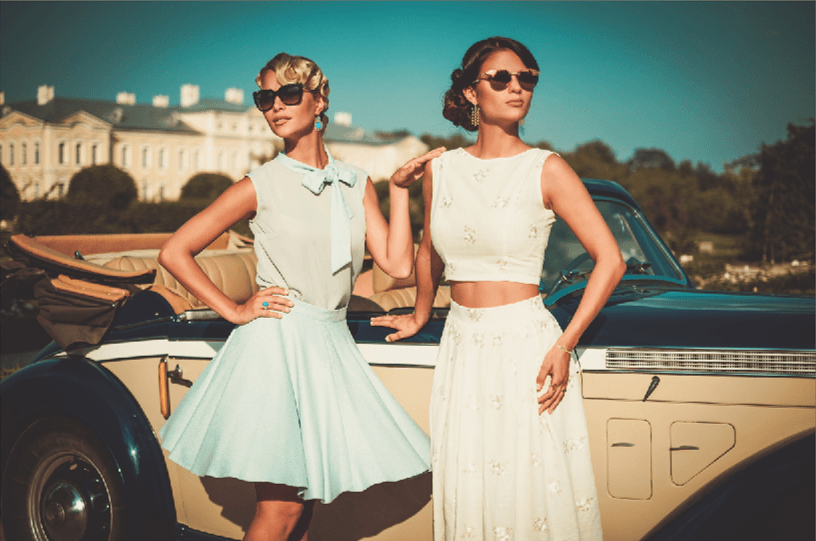 A luxury yacht with incomparable views, impeccable cuisine, the finest wine; sun tanned skin, beautiful bikinis and designer sunglasses; what more do you need on your yachting vacation? The only thing missing is handcrafted and exquisite jewelry to match your boating style.
You are never fully dressed without complementary jewelry pieces, whether on land or at sea. Typically, the dress while on a yacht consists of elegant, flowing sundresses for women and khaki and linen for men.  The color scheme lends itself to a more neutral palate.  This nautical-inspired wear allows you to shine through your choice in yacht jewelry.
The ocean is a magnificent inspiration for jewelry options during your summer yacht travels.  With its wide array of glimmering blues, greens, and purples, the ocean can help inspire jewelry options that will have you glimmering and glowing from morning to evening.
Our hand-selected jewels will elevate your summer yacht style and make you feel like the most elegant woman on the yacht.
Turquoise
Capri is known for its crystal clear turquoise waters, its strong sun, a fun and festive culture full of vibrant colors and its delicious seafood.  When your yacht docks, you will be in awe of the beauty of the varying turquoise hues of the ocean around you.  Turquoise jewelry is the perfect complement to days at port.
Turquoise is a rare, prized gemstone; it is known for its opaque, blue/green color.  Turquoise jewelry can be matched with neutral or colorful clothing.  It can be dressed up for a dinner party, or dressed day for a relaxed day at the beach.
For statement earrings, try Hammerman Jewels' Turquoise and Blue Sapphire Amorphous Earring.  These beautiful earrings contain nearly 16 carats of turquoise, over 4 carats of diamonds and over 1 carat of sapphires and are sure to complete your outfit and draw attention to your face.
Turquoise and Blue Sapphire Amorphous Earring
Aquamarine
The shallow waters you will sail through will also show shades of aquamarine.  Aquamarine waters are truly dazzling, through their beautiful bluish color, you can see the floor of the ocean, tropical sea life, and colorful coral reefs.  Aquamarine jewelry works well for days in port or at sea and can match nearly any outfit.
Aquamarine literally translates to "water of the sea." It is the bluish-green variety of Beryl, which also contains other gem varieties such as Emerald and Morganite. The delicate, crystal hue makes it a perfect complement to any wardrobe.
The Aquamarine Bangle Bracelet in Platinum by Hammerman Jewels in a fun jewelry piece to use as a finishing touch for multiple resort wear outfits. With a glittering 9.19 carat aquamarine set in a platinum bangle, this bracelet is sure to dazzle as it catches the reflections off of the ocean.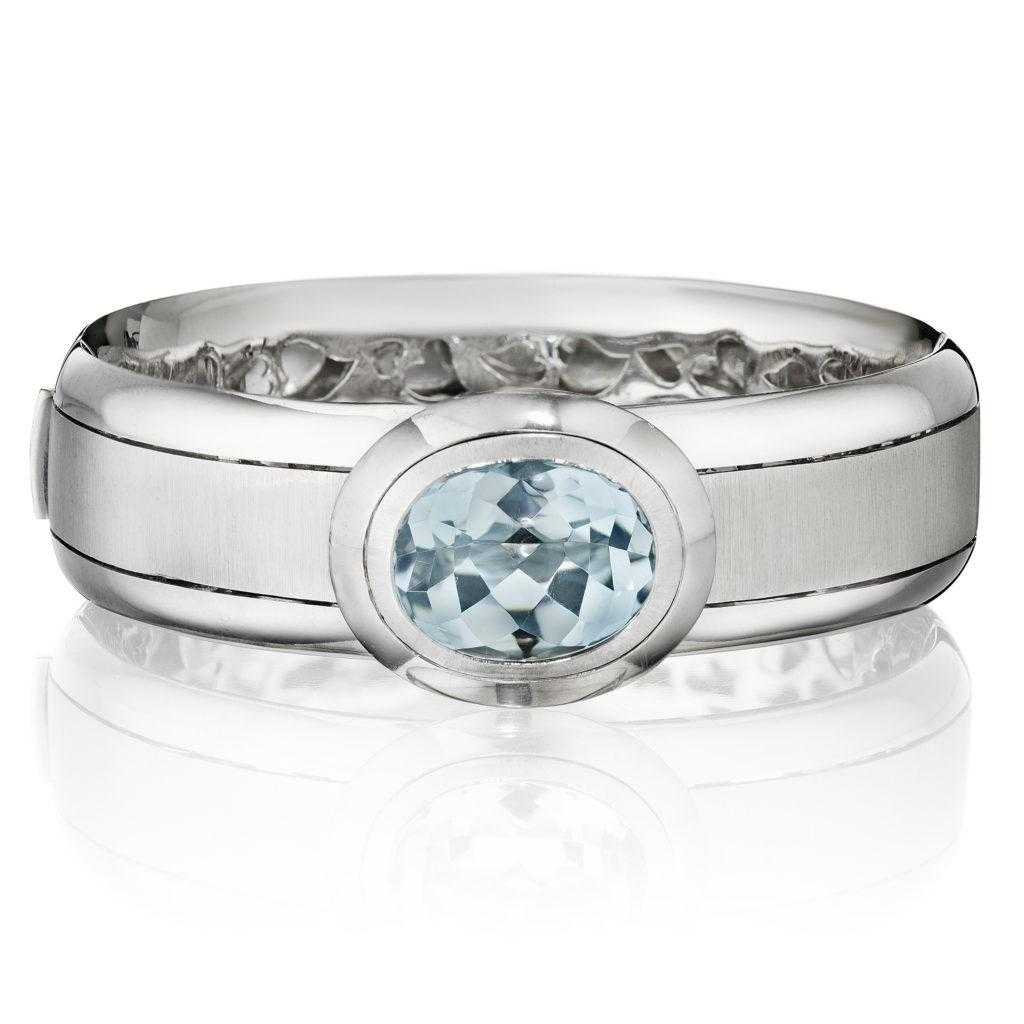 Aquamarine Bangle Bracelet in Platinum
Sapphire
When the sun has set and the quiet, peaceful still of the night has settled in on the ocean, the party on the yacht is just heating up.  Whether your dinner is a formal or casual affair, sapphire jewelry is a wonderful match to an evening aboard the yacht, as the dark but glistening color matches the night's ocean.
Sapphire is one of the two gem varieties of corundum. (The other is Ruby.) Sapphire is best known for its dark blue variety, but these gems can also be gray, black, pink or even colorless.  Sapphire is the most precious and valuable gemstone.
For a dinner onboard your yacht, try a combination of Hammerman Jewels' Oval Sapphire and Diamond Chandelier Earrings and Sugarloaf Cabachon Ceylon Sapphire and Diamond Ring.  The earrings, set with nearly 16 carats of sapphires and over 2.5 carats of diamonds, is an elegant addition to a long dinner dress and will certainly draw attention to you; the earrings contain a striking resemblance to the ocean's waves, which will serve as a striking match to your environment. The ring is another beautiful combination of diamonds and sapphires to help round out your outfit.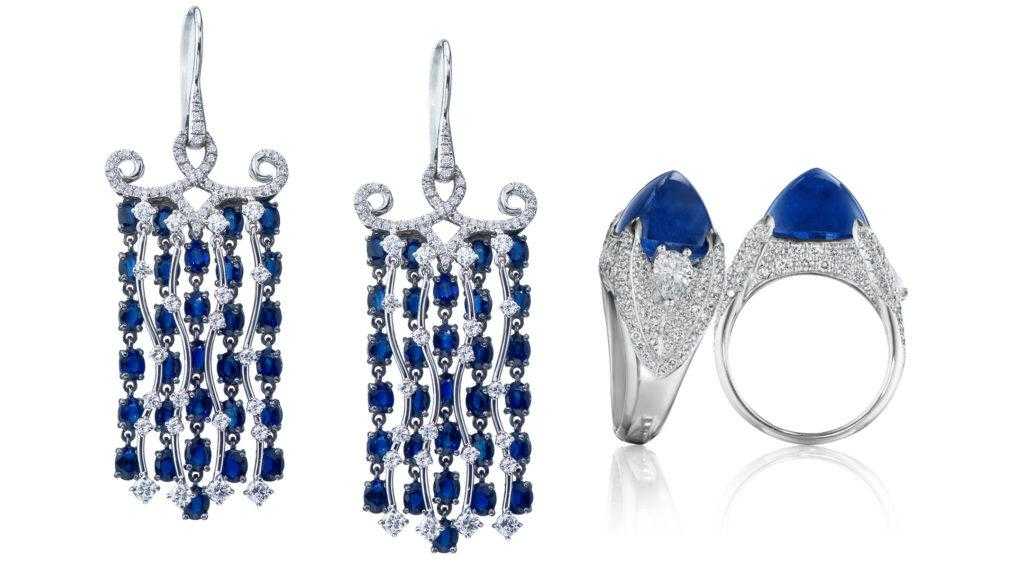 Oval Sapphire and Diamond Chandelier Earrings and Sugarloaf Cabachon Ceylon Sapphire and Diamond Ring
As you set sail aboard your expansive yacht for your summer vacation, you will undoubtedly be traveling in style. The ambassadors at New York City's premier jewelry company, Hammerman Jewels, can help complete your onboard style with the perfect jewelry choices for your resort wear style. Contact us today to schedule a consultation that will ensure that your summer vacation leaves no style onshore.