Every year, we see countless jewelry trends that come and go; some trends are subtle, like diamond drop earrings, and some are meant to make you stand out from the crowd, such as chunky statement metals. In 2019, the fashion industry has (thankfully) welcomed back color gemstones, a jewelry trend that works for both everyday wear and glamorous evening events.
Color gemstones were a major trend in the 1990s and early 2000s, when a fashion guideline was "the more colors, the better." During that period, it was trendy to wear jewelry items that boasted your birthstone or those of your children. However, over time, the jewelry industry saw a shift to subtlety, with diamonds and simple metal pieces becoming the focal point of women's jewelry collections.
Precious gemstones are beautiful, elaborate and valuable. These trendy pieces are worth the investment in 2019, as the popularity of the trend and the value of multiple gemstones continues to rise. At Hammerman Jewels, the premier jewelry company in New York City, our professional jewelry ambassadors are thrilled to welcome back this colorful trend with some of our hand-picked precious gemstone pieces.
Glistening Orange Jewelry
Sparkle is a girl's best accessory and nothing steals the show quite like shades of orange, which will certainly make a woman stand out.  Many precious gemstones can be found naturally in orange, including garnet and citrine. Hammerman Jewels designs and crafts jewelry using these gemstones, among others, to make a woman sparkle and shine day and night.
To make a statement, opt for Hammerman Jewels' Orange and Pink Garnet Chandelier Earrings. Garnet is typically seen in its traditional "garnet red" form, but these orange and pink garnets show the versatility and style of the gemstone.  With nearly 13 carats of orange and pink garnets, these dangling earrings add both fun and elegance to your jewelry collection.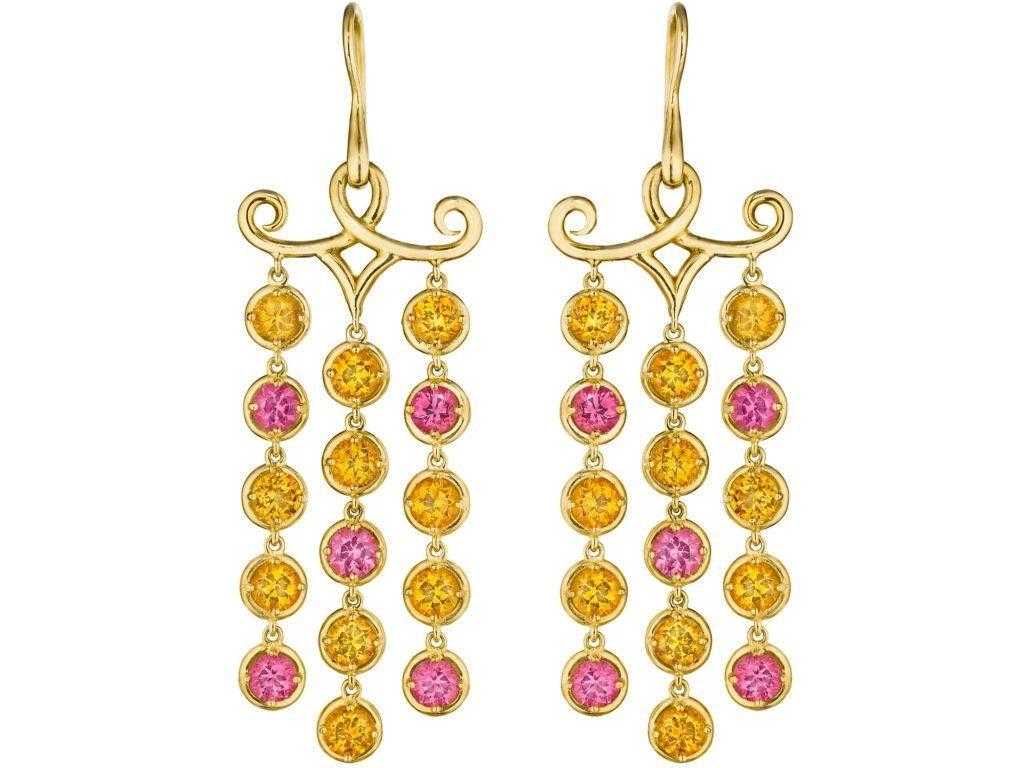 Orange and Pink Garnet Chandelier Earrings
The Pretty Pink Tourmaline, Citrine and Diamond Ring by Hammerman Jewels is the perfect color gemstone ring to add a classy, yet stylish, piece to your collection. With nearly 9 carats of citrine, a glassy yellowish-orange variety of quartz, over 1.5 carats of pink tourmaline, a pink healing crystal, and 144 diamonds, this ring will have every woman swooning.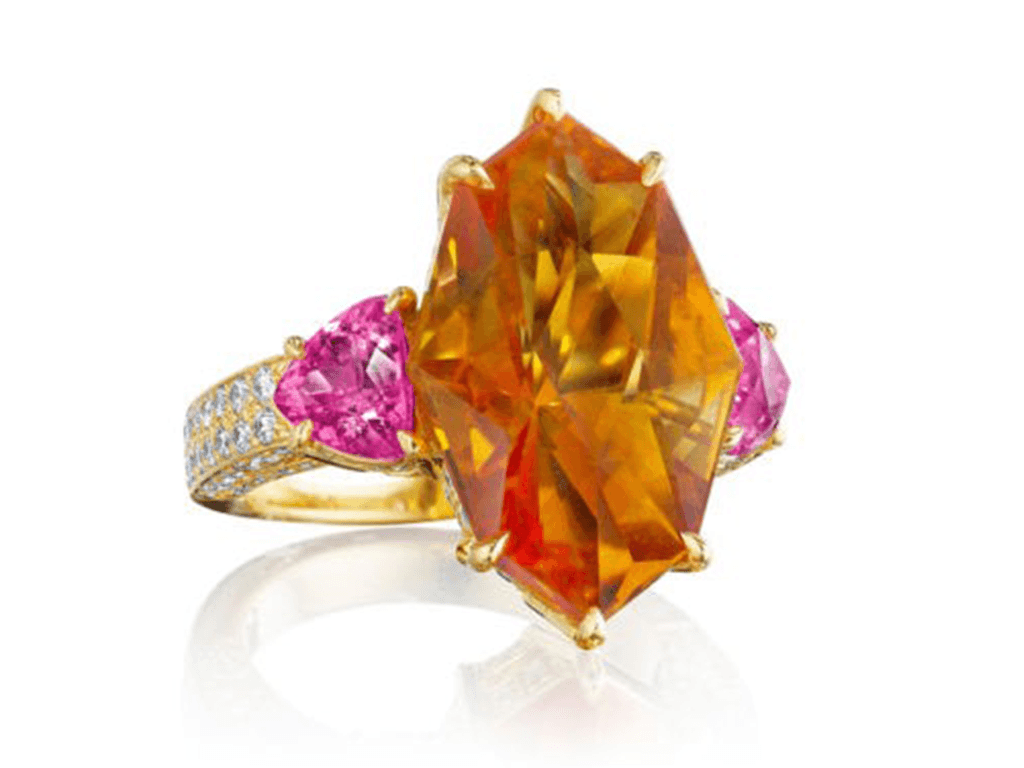 Pretty Pink Tourmaline, Citrine and Diamond Ring
Sparkle with Kunzite
Kunzite is a glassy gemstone that ranges in color from pastel pink to intense violet; it is a rare and valuable gemstone that has been used in elegant jewelry since the early 1900s.  Kunzite is known as the "Stone of Emotion" and is said to connect the heart and mind, to stimulate healing between the two. Its sparkling color adds the perfect accent to nearly any outfit.
At Hammerman Jewels, we believe the One of a Kind Kunzite and Coral Necklace is the show-stopping piece than a woman needs in her jewelry box. With nearly 100 carats of kunzite, over 5 carats of diamonds and over three carats of pink tourmaline, this necklace is as elegant as it is visually stunning.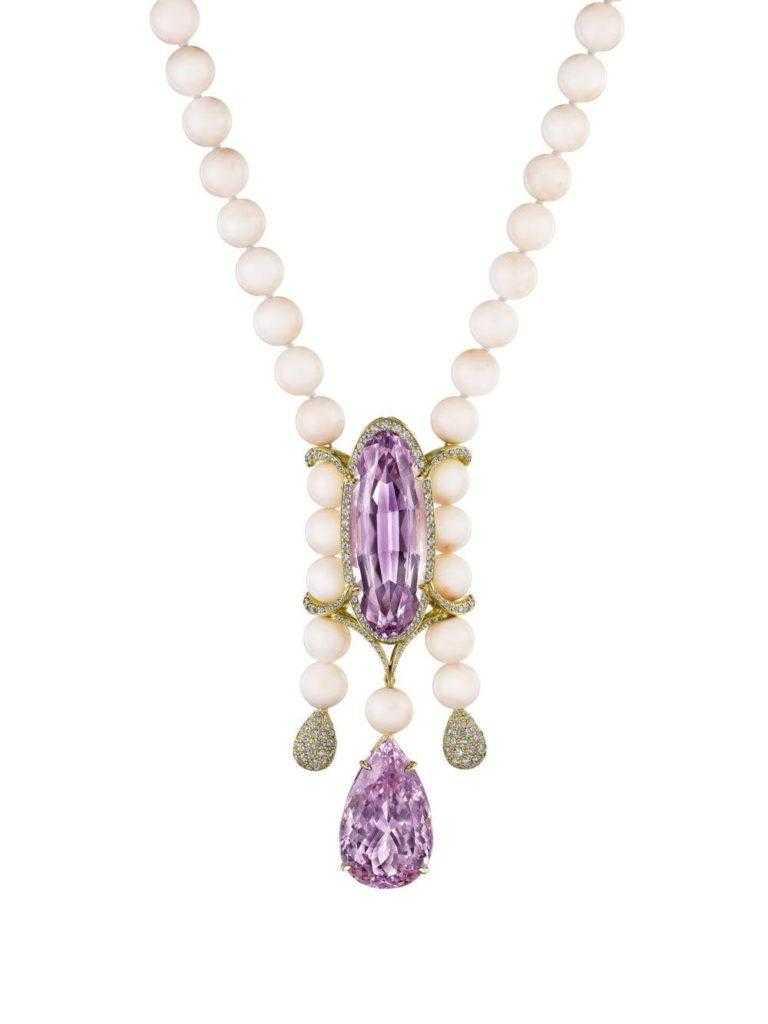 One of a Kind Kunzite and Coral Necklace
For a black-tie function, elegant dinner party or evening out in the city, try Hammerman Jewels' Kunzite Bracelet with Diamonds and Pink Sapphires.  This bracelet contains 24 cushion cut kunzites, 85 diamonds, and 81 pink sapphires; it is the perfect finishing touch to your night out wardrobe.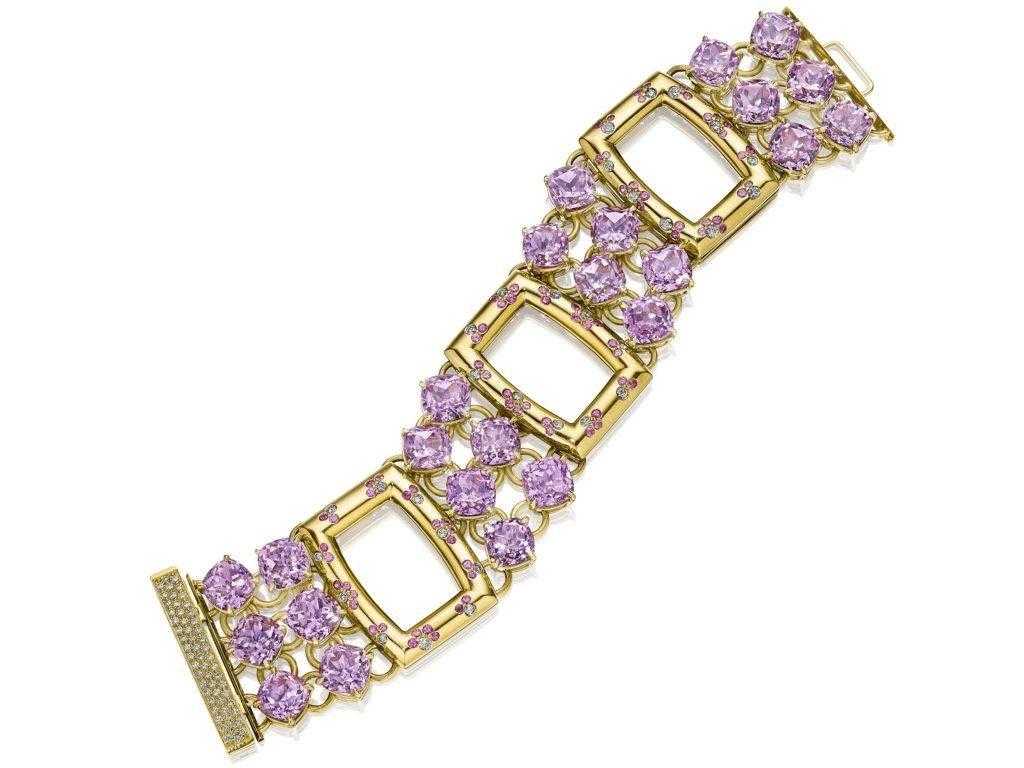 Kunzite Bracelet with Diamonds and Pink Sapphires
Pretty in Pink
Pink gemstones are another favorite among women; the feminine elegance provided by gemstones such as pink tourmaline, coral and rubellite add elegance and class to any outfit.  Pink tourmaline enhances emotional healing while offering bright vibrant pink accents to your outfit. Coral, unlike other gemstones, is made from living organisms; it comes in various shades of pinks and reds.  Rubelite is tourmaline that appears in pink to red hues.
For a large statement piece, wear Hammerman Jewels' Cabochon Pink Tourmaline Bangle in Yellow and Rose Gold.  With one pink tourmaline of over 14 carats, set in a beautiful thick bangle of yellow and rose gold, this bracelet will serve as the focal point of any outfit.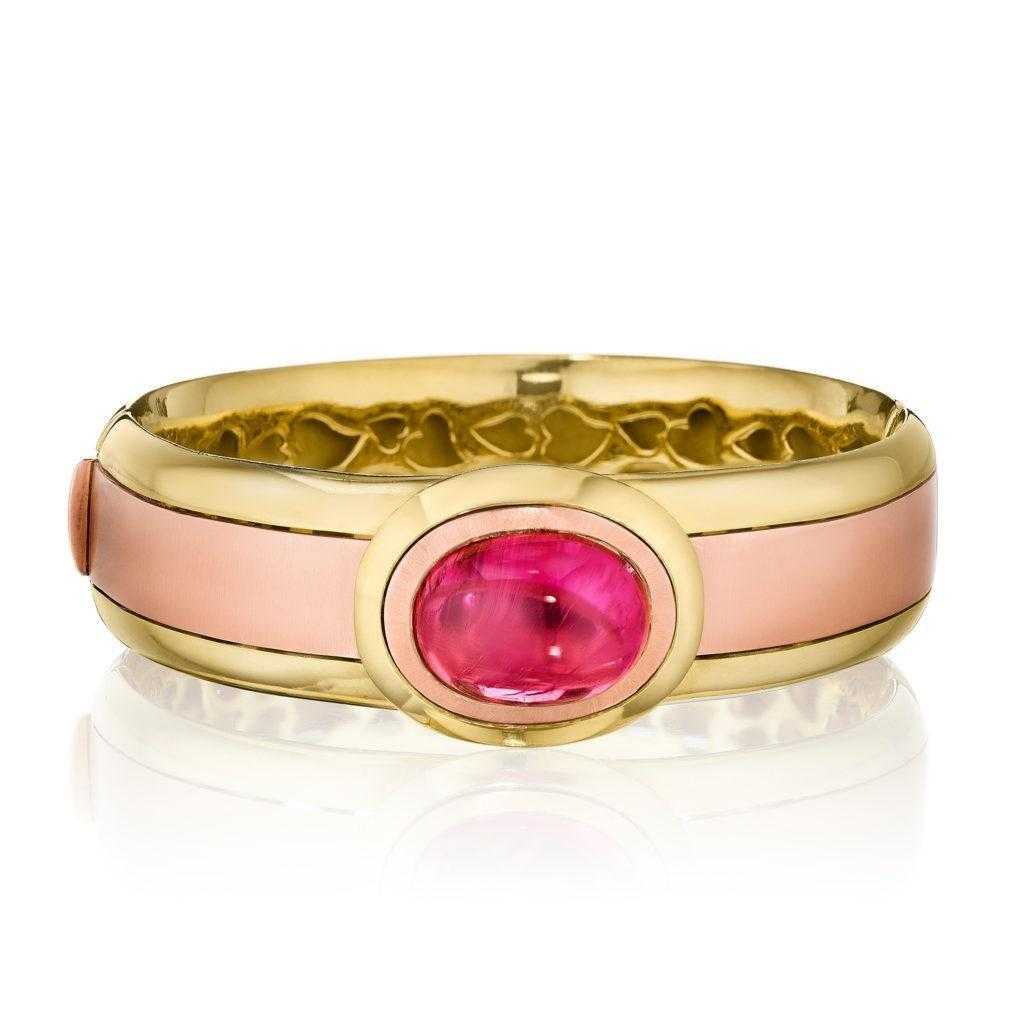 Cabochon Pink Tourmaline Bangle in Yellow and Rose Gold
Hammerman Jewels' jewelry ambassadors recommend the Coral and Rubellite Flower Cocktail Ring for a classy and glamorous piece.  This statement ring contains 6 corals, 5 rubellites and 110 diamonds.  It is certainly an item of jewelry that will be in your rotation for day and night throughout the years.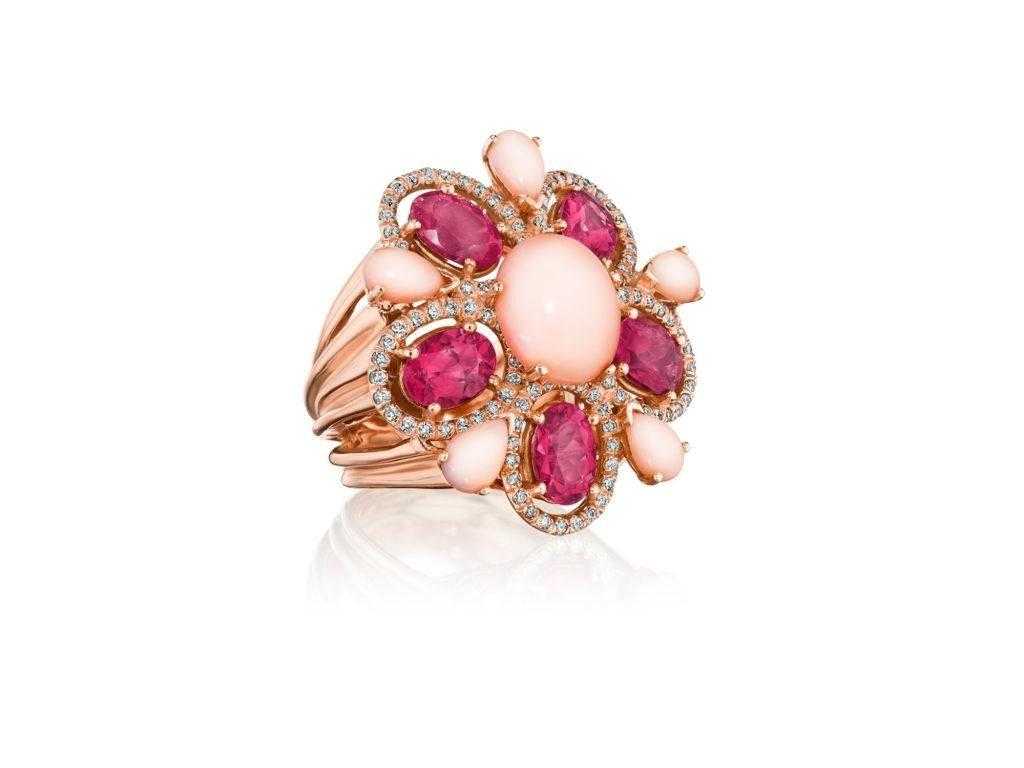 Coral and Rubellite Flower Cocktail Ring
As New York's top jewelry design company, Hammerman Jewels prides itself on designing and crafting show-stopping pieces that are both trendy and timeless. To add color gemstone pieces to your collection, or any of our other fabulous jewelry, schedule a personalized consultation with our expert ambassadors today.